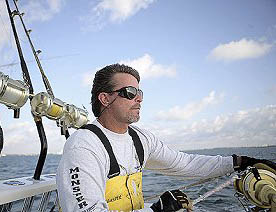 Stingray, Hammerhead, Bullshark, Thresher, Video Charters!
Climb on board Striker-1™, the 50' Hatteras Luxury Sport Fisherman home of the world's famous Lee's fighting chair with world class tackle, live bait, crew and is fully air conditioned. Also comes complete with full service head & galley. Captain "Mark The Shark"®, an expert on charter fishing for any type of fish, has been featured on local and national television programs, explaining his specialty: "Monster Fishing"™. "Mark The Shark"® has been catching fish in epic proportions all over the world and the waters of South Beach, Miami, Florida for more than 30 years! His experience and knowledge of fish and their habitat make for thrills of a lifetime! Mark the shark has personally consulted and assisted in building fishing resorts all over the world and has fished and trained crews in exotic destinations including: Cape Town, Gabon, Angola, Principe, Bom-Bom. Sao Tome, and Senegal in Africa. In Thailand the Phi Phi islands in Phuckett. In the French Polynesian the islands of Raiatea, Tahaa, Moorea, and Bora-Bora. And just recently the fishing villages of Da Nang, Vung Tau, Nha Trang, and Halong Bay in Viet Nam !
"MARK THE SHARK'S" VIEWS ON SHARK FISHING AND THE POPULATION OF OTHER SPECIES MAY DIFFER GREATLY FROM THE OTHER " SO CALLED EXPERTS ". HE HAS BEEN HUNTING THE SEAS #1 PREDATOR FOR OVER 35 YEARS AND HAS HELPED MANY SCIENTISTS AND RESEARCHERS IN OBTAINING VITAL INFORMATION." HE IS ARGUABLY ONE OF THE WORLD'S LEADING AUTHORITY ON CAPTURING MOST SPECIES OF SHARKS. HIS AMAZING LIFE HAS BEEN DEDICATED TO CATCHING AND STUDYING SHARKS, MANY OF WHICH HAVE BEEN A GREAT BENIFIT TO SCIENCE. CERTAIN PERMITS MAY HAVE BEEN GIVEN TO "MARK THE SHARK" BY THE GOVERNMENT TO CAPTURE SOME SPECIES SO THAT WE MAY LEARN MORE ABOUT THE MANY SECRETS THEY STILL HARBOR.
Mark the Shark - Home of the World Famous Lee's Fighting Chair!
Search Engine Submission - www.servicewrap.net : www.marktheshark.com - South Florida charter boat captain Mark the Shark is voted number one charter boat in Florida. Charter Legend, Captain "Mark The Shark" has been credited for capturing more sharks on rod and reel than any human being on the planet! Voted number one bachelor party boat. Voted number one fishing website in the world. Miami Beach number one charter boat. www.marktheshark.com covers USA, Canada, South America, New York, Chicago and Toronto : - south florida charter boat - miami charter.